Historic Maps of Hoddesdon and the local area.

I was raised in esse x road hoddesdon. The house i lived in was opposite bell and websters. It now is Sainsburys depot The school i went to was Hazelwood junior school and then onto Hoddesdon secondary school.Leaving school I became a carpenter and jjoiner, years later i got married ,had three children and emigrated to (...Read full memory)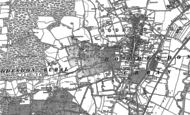 Yes I recall this well. The main attraction was that I could put my feet into a special xray machine to see 'the fit' of a shoe. One's toes could be seen wriggling. No doubt v dangerous but a child has no conception of that. So far I have not developed leukaemia which is an added bonus. Didn't Sally Seaton work there (latterly Mrs Brekaflak).