Share Your Memories
Reconnecting with our shared local history.
Take a moment to remember the places that have been important in your life. Where your family comes from, where you were born, went to school and got married; the towns and villages where you've lived and worked since. Recapture and rekindle those precious memories with this special part of our website. Here are a few of a favourites for you to read today..!
I too, remember this bridge well and with affection from my early childhood. We lived in Brokengate Lane up near Tatling End, but cousins lived actually in the village. During the war, my mother and I used to walk down to here carrying a battery/accumulator for our radio - we used to have to have it charged (...Read full memory)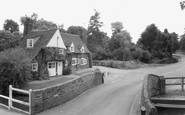 I remember going to grandads; he lived by the clay pit in Foxhole and he worked there together with his two sons. He lived in a cottage and the railway ran by the house. There was a large shed next to the railway and he built a swing for me to play on, only recently I discovered that prisoners of (...Read full memory)
My father, who is now 86 used to be a lorry driver worked for the MOD in the late 40's early 50's and regulary went to Cold Meece. So jump to the 1960's and he would take us quite often for the 'Sunday afternoon drive out' to Swynnerton and the Cold Meece area from Hanley; he knew it like the back of his (...Read full memory)
My fond memory is of my father's furniture shop in Thames Street, S & E Oliver Ltd. Every morning dad and I would display furniture on the shop forecourt and I would do deliveries and window displays. My dad, Mr Barry, was a courteous gentleman who gave the best customer service ever and he taught me his skills which I still use to this day. Does anyone remember him?
We lived on Park View facing the library and Queens Park which had its own museum and everything a victorian park could offer two young brothers yearning for adventures. We would ride our guiders all over that park, and enjoy the corporation pop fountain near the front gate on Queens Road. We would lark about (...Read full memory)
I remember the boating lake with very fond memories. We used to holiday with my great aunt and uncle who lived in Reydon every year. My parents, with my brother and I would arrive in late July and they would return home a fortnight later. I would remain for a further 4 weeks and my aunt would then take me home.This was (...Read full memory)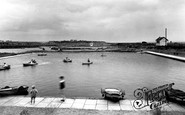 I lived on Commercial Road, Aberbeeg with my mam, dad, three brothers and sister a stones throw from Aberbeeg School which I attended when Mr Talbot was headmaster. My local chapel was in Glandawr and has been demolished. I belonged to a Christian group there called The Campainers. Our family never went out of Aberbeeg for (...Read full memory)
On returning from the Middle East, my family holed up across the water at Fawley. A big city was very exciting for me and after getting off the Hythe Ferry it was all bomb craters up to about the Dolphin. Above Bar was all hoardings around gigantic holes where obviously bombs had fallen and footings were (...Read full memory)
Although I only lived in Woodford for a couple of years at most I was happy there. We lived at 17 High St, which I suppose might be called a cottage these days. It was a 2 up 2 down place with a strange sort of tiny extension built on the back which my mother called the kitchenette! There was a brick built (...Read full memory)
My Mum, Dad and I moved to Pailton in 1960/61; we moved in to 10 Lutterworth Rd which had been a saddlers at some time. We had some builders in to renovate the place and I remember my mother saying they had to remove 72 hooks from the ceiling in the room which was to become the Post Office. There was a lot of fuss (...Read full memory)