Burton in Lonsdale, Yorkshire
Historic Maps of Burton in Lonsdale and the local area.

My great grand mother was born in 1890 and lived in Burton in Lonsdale all her 83 years. She was my guardian after my father died (Jim Coates) at the young age of 21 in 1969. My grandmother married Joseph Wright and lost him to the Great War. She had two daughters (...Read full memory)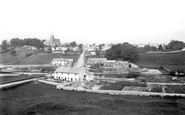 The Punch Bowl pub is in danger of closing and the village is bidding to buy it from Thwaites Brewery. Please share your happy memories of this, the last pub in the village.