Burton in Lonsdale, Yorkshire

Browse our selection of old black and white photographs of Burton in Lonsdale, along with a selection of historic maps, local history books, and fascinating memories that our visitors have contributed. All our photos and maps are available to buy in a wide range of product formats, including framed prints, canvas prints, tea towels, mugs, jigsaws, tableware, cushion covers and as one photo in a customised calendar. Most of our local history books can have a personalised inscription added for FREE to the title page.
Historic Maps of Burton in Lonsdale and the local area.

During the week the second world war ended (not sure whether it was (VE or VJ) I was camping in the village with a party of Girl Guides from Keighley, West Yorks. We were led by Miss Clough who was the Keighley Commissioner for Guides and the camp was down on the river side. We arrived by coach and I remember (...Read full memory)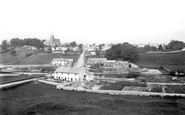 I was born in the village in 1949, in an end terrace No.1 Woodview. It was down a small road in the centre of the village and at the top, I believe at one time there was a timber yard/sawmill. The cottages at the top of the 'yard' were called Sawmill Cottages and my grandmother Annie (...Read full memory)