Historic Maps of Althorne and the local area.

My name is Clair salmon I was born at my home in althorne the house called charmouth on burnham road, I arrived late in July 1974. I was the youngest of two children, my sister phillippa was three years older than me she had been born in doddinghurst then my parents moved to althorne not long before I was born. I have (...Read full memory)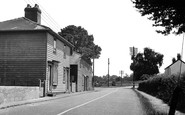 We used to live here between 2007-2009. It may have been a nice pub a long time ago and it still looked ok when this photo was taken which was the year I was born, but from the time we moved in from the time we moved out we shared the house with hundreds of mice! I'm glad we're gone but I bet the mice still live there!.