Historic Maps of Binfield and the local area.

I moved to Binfield with my parents Rose and Cyril Richardson and my brother Brian in 1946. We lived in Rose Hill at a house called "Athlone".  It isn't there any more, it was demolished and six houses built on the site. At the age of 30 I finally left Binfield but the memories of growing up there have never (...Read full memory)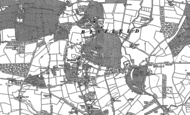 Does anybody have any photos of the scouts, 1st binfield troop at the carnival. Anybody remember Mr & Mrs A.E.Pear, as I was brought up by them and we lived in Forest Road, next to the infants school. I also remember Norman Munday the village barber, he was a very nice person. Please get in touch. Thank you, Tony Whitlock (known then as Pear).