Cheadle Hulme, Greater Manchester
Historic Maps of Cheadle Hulme and the local area.

The Chocolate Box..... Anyone here remember my Grandad"s shop on Church Road. Cheadle Hulme. The Chocolate Box. Tobacconist and sweet shop. Grandad made all the ice lollues he sold. And on occasion , childten would come into the shop with a wobbly tooth wish he would pull out for them!!!! Wouldnt be allowed these days. He was a (...Read full memory)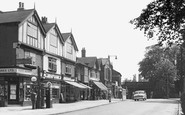 I don't recall to much of Cheadle Hulme. By the way my name is Brian Cheadle, and I was born in Swinton back in 1952. I remember Station Road. I was 10 years old when we came to Australia. We lived at 48 Warwick Street. Pendlebury? Anyway it's time for zzzs goodnight all and hope to read some of your memories soon.