Historic Maps of Colchester and the local area.

I just thought that the springboard (outside the female changing rooms ) was just the springiest of all springboards. Seriously though,my memories of those sunny days at the old Colchester Swimming Pool were some of my happiest.I used to live at 91 Mile End Road and even from there on a hot sunny day I could hear the (...Read full memory)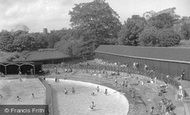 I lived in Salisbury Avenue and once at St John's Green Junior School this was my route home. Playing on the walls of the assault course, amongst other escapades. Unfortunately, when I was back there in 2012 it was a building site. Infact, virtually all the barracks had disappeared and I had to find my way round with a Sat Nav!