Historic Maps of Fleetwood and the local area.

I was born in Fleetwood in Flagg Street (which was called Flagg Alley ). My Father worked in a rock and easter egg factory with Harry Bentley and I used to taste the rock for them. My Father was called Walter Lawn. There used to be a pigery not far from there and I used to go round when going to school. My relative was (...Read full memory)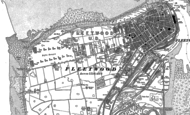 We used to own the Katherine holiday flats on the front at Fleetwood. We had a lovely time living there and we still go back to visit. Unfortunately the Pier was burnt to the ground in 2008 and there is now nothing left of it. Sad really. Fleetwood had and still has a lot going for it, but the council wouldn't put any money into the facilities to encourage visitors.