Historic Maps of Great Braxted and the local area.

Around 1960 I lived in the village shop with my parents and brother and our "grandmother" Molly Parr. She was not really related to us, my mother had been lodged with her when she was in the land army and they became firm friends for life. The shop used to house the Post office and library and (...Read full memory)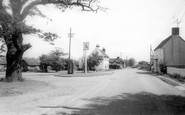 My grandparents lived in Braxted Park where my grandfather was a gamekeeper. They lived in Pundict Cottage, and having looked at local maps, I am wondering whether the house known as Pundict Lodge is built on the same site. Does anyone know?