Historic Maps of Newton Abbot and the local area.

My great grandfather lived at 49 Chapel Hill, Highweek, Newton Abbot. He was 39 then and he had a wife called Susan and 6 children. He was a policeman in Highweek and I am trying to find out more about him and his mother and father, his children were Mary Ann, Susan Ann, William, Samuel, Elizabeth M and John (...Read full memory)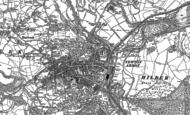 I was born in Newton Abbot 1952. My brother John and I went to Bearnes School until John left to go to a new school above our home in Penn Inn Close. We left Newton Abbot when I was about 6 years old and moved to Bedfordshire. I remember the park (Penn Inn) the pub (Penguin) and the sounds coming from the swimming pool (now Sainsburys). I do go back occasionally on visits; I now live in Plymouth.