Historic Maps of Newton Abbot and the local area.

This Country Park is signposted just off the Penn Inn roundabout, and my family had a lovely outing there on a hot Spring Day. I have to guess that the photograph illustrated here is the site, because I imagine the lake may be artificial and perhaps didn't exist when the picture was taken ninety (...Read full memory)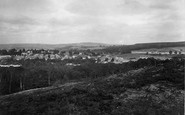 I was wondering if anyone remembers a home in Newton Abbot called Grange Court. The period I'm interested in is the 1950's. It may have been a residential placement for people with mental health problems or behavioural difficulties. Any information about care settings like this in this area would be gratefully received.