Historic Maps of Pease Pottage and the local area.

I was a pre nursing student in1962 at the South London Hospital for Women. As part of our course I was sent to work at Woodhurst for 6 months, prior to beginning my S.R.N training. Woodhurst was the convalescent home linked to the Sooth london hosp. Ladies were sent there for a couple of weeks to recover from (...Read full memory)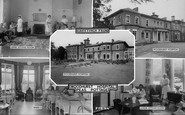 My Dad, Sid Sargent also sold flowers at the Black Swan - he grew Dahlias and Golden Rod in our garden at Truggers in Handcross, bunched them up on Sunday afternoon and biked up to Pease Pottage to sell them to the Londoners going home after a day in Brighton. Dad was born at 11 Horsham Road, Pease Pottage in 1920.