Past & Present Folded Sheet Map
Telford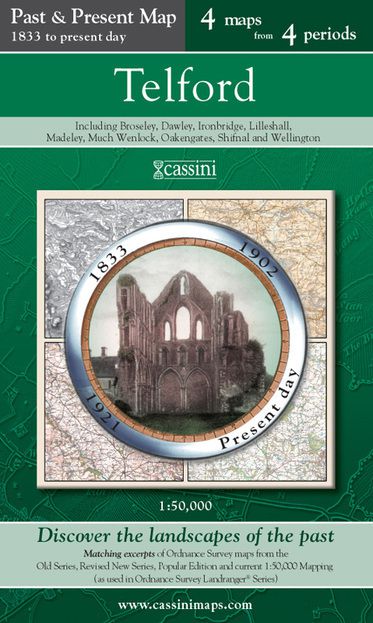 About This Map
Map format:

Folded Sheet Map

Map title:

Telford

Series:
Map year:

1833

Coverage:

17 x 10 miles

(Approximate)

Places:
Map ISBN:

978-1-84736-261-2

Delivery:

Up to 7-10 working days


Express delivery is unavailable.
Locations Covered Include
Beckbury,
Benthall,
Broseley,
Buildwas,
Coalbrookdale,
Dawley,
Donnington,
Hadley,
Ironbridge,
Kemberton,
Lilleshall,
Little Wenlock,
Madeley,
Madeleywood,
Much Wenlock,
Norton,
Oakengates,
Priorslee,
Ryton,
Shifnal,
St George's,
Telford,
The Wrekin,
Trench,
Wellington,
Woodcote,
Wrockwardine.
More Folded Sheet Maps of the same area
About Our
Past & Present Folded Sheet Maps
High quality folded sheet maps, re-scaled and projected to match Ordnance Survey Landranger.
Each Past & Present map is centred on a city or town and covers an area of 15km x 15km using four Ordnance Survey mapping series to cover four different periods: the mid 19th century, the late 19th century, the 1920s and the present-day. All four maps cover exactly the same area. To achieve this, the three historical maps have been enlarged from their original inch-to-the-mile to match the 1:50,000 scale of the present-day one. The addition of the familiar National Grid on all four maps enables easy comparison across the four time periods. Historical notes, details of the original maps used and web-links for local history societies and other sources of information are also provided. All in all, comparing the past with the present has never been easier!