Historic Maps of Ramsey and the local area.

Lots of memories came back to me when I saw this picture of Ramsey Secondary Modern School, of lots of friends and lots of teachers and the headmaster, Mr Fluff Burton. I played a lot of sports in teams with friends as well, tennis, netball, swimming, didn't do very well though in athletics. Looking back other pictures of Ramsey (...Read full memory)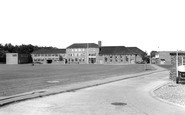 I passed the dreaded 11 plus in 1955 to Ramsey Abbey and still remember how awesome it was. I remember Mr Barnes was headmaster and Miss Oddy was headmisteress and very particular about pupils wearing the correct uniform. I did not appreciate the beauty of the place at the time but still visit Ramsey from time to time and consider it a privilege to have gone to school at the Abbey.