Quainton, Buckinghamshire
Historic Maps of Quainton and the local area.

I lived in Quainton in the 1950s, on the corner of The Green and Lower St.  My family had the drapers shop.  I remember bonfire night on the green, rolling down Mill Hill, Christmas carols, ballet lessons in the church hall and sitting  the 11+ exams at school and of being sent to the Sportsmans Inn for a (...Read full memory)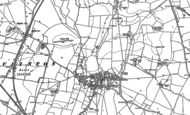 I was born in Northend Close and lived there till 1969. Was good friends with John Hobbs, I went to village school when I was 5 years old. My dad used to run the scouts with Bob Henly who lived in Church Street. I was also friends with Anne Ewers who lived in the close. We moved to Poole in Dorset in 1969 and I still live there now.