Historic Maps of Skipsea and the local area.
My grandma had a chalet on green lane at skipsea for many years from 1950s and can remember when there was old train and tram carriges used as holiday lets all along the cliff top,my mum practicaly grew up there,as did i and can remember when there was the old Teddys amusments with swingboats outside, and the old pavillion (...Read full memory)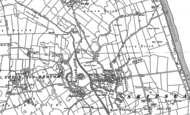 1954-55 we used to stay in a Wooden Bungalow on the cliff top, it was called Bay View and there was also a small, (Tiny) chalet in the front garden . At that time , the cliff edge was possibly 15 metres or so from the bungalow and there were steps cut into the cliff face to get down to the sands below.