Historic Maps of Alrewas and the local area.

My dad Harry Newbon, became the village bobby in 1956. We lived in the police house in Wellfield Road until 1964 - the happiest days of my young life. Attending the village school where the head was Mr Hayton. Does anyone remember the day the great gales blew the roof off their house and we were all sent home? Mr (...Read full memory)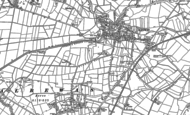 During the 1970s when I was a teenager, I drove my grandmother to Alrewas, Staffs as her family were from this village. We walked around the old church graveyard and found many stones with the name Kent.  Inside the church there are two plaques dedicated to my great-grandmother. It was truley a wonderful experience.