We have no old photos of Barrow available currently. You might like browse old photos of these nearby places.
Historic Maps of Barrow and the local area.

Read and share your memories of Barrow itself or of a particular photo of Barrow.
Hi I've been doing my family tree and found out that my grandparents and great-grandparents and my great great grandparents lived and worked in the police in Blackburn. My great-grandfather William Whalley was married to Betsy and lived in the Langho Hotel. But I cannot find out any information about the Langho (...Read full memory)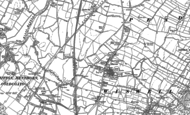 My dad met my mam, who lived in Romney Road,  Barrow when he played football for Barrow FC.  They were married on 31st of July 1947 at St James' Church.  My mam and dad moved to Gateshead where my dad played Gateshed FC until 1953. I was born in 1948 and have many memories of holidays spent in Barrow where some of my mam's family still live.