Battersea, Greater London
Historic Maps of Battersea and the local area.

Hi All - born during the war in Oxford 1944 at Chippinghurst Manor - requisioned as a maternity home - raised in the 50s 60s & 70s at 50 Bolingbroke Grove SW11 and went to Belleville JBs school and Sir Walter St Johns Battersea High St. Great to see the photos of the Granada etc. Presently living in Canada, but haven't forgotten my roots. Any other Sinjuns around??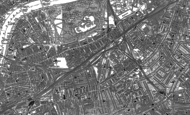 From the end of WWII until Sept 1957, my parents rented rooms in one of the houses in Banbury St that still stands. I was five when we moved to Surrey but have vivid memories of the house. I remember the coal-hole in the semi-basement filled from the pavement outside up the area steps. There was (...Read full memory)