Battersea, Greater London
Historic Maps of Battersea and the local area.

Hello, My family originated from east London (mainly Dagenham), but our branch 'emigrated to Battersea in 1964. Our first address was 22 Morella Road, right opposite Wandsworth common. I went to Honeywell junior school, in Honeywell Road. The teachers I remember from there were Mr. Gordon Bennett (truly !) (...Read full memory)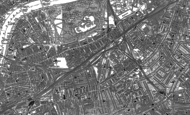 I grew up between 1946-1957 in Durham Buildings. I wonder if anyone else who reads this website has similar memories. Playing on the bomb sites across the road, Saturday morning pictures (Flash Gordon etc.), St John's Primary school in Usk Road (I think!). Love to hear from anyone else with similar memories. As we get older it all seems to fall into place doesn't it ha!