Bourne End, Buckinghamshire
Historic Maps of Bourne End and the local area.

My brothers and I returned to Bourne End at the end of the war. We had been evacuated to Nottingham. We lived in a small house called "The Nest". It was the last house on the road. Lunnon's Farm backed on to all the houses and a cherry tree was just outside our back garden. On a Sunday we used to go to get Stones (...Read full memory)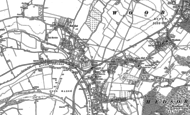 Living in Farnham Common and then in Farnham Royal, I knew Bourne End well. A long time ago some very good friends of mine bought a house in Blind Lane. Unfortunately, as so often happens, we have lost touch. If anyone reading this should remember Brian and Frances Wadman, I would love to hear from them.