Bourne End, Buckinghamshire
Historic Maps of Bourne End and the local area.

Living in Farnham Common and then in Farnham Royal, I knew Bourne End well. A long time ago some very good friends of mine bought a house in Blind Lane. Unfortunately, as so often happens, we have lost touch. If anyone reading this should remember Brian and Frances Wadman, I would love to hear from them.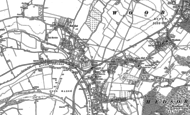 I grew up in Bourne End and went to the Primary School from 1954 to 1960. My father, Dennis Sharley, was the catering manager at the Mill. I vividly remember collecting newspaper to be weighed and sold for a few shillings. Also fond memories of the annual works outing to Brighton. Brightly coloured Bedford Doplo coaches (...Read full memory)