Historic Maps of Broadclyst and the local area.

What a lovely life. Playing in the station, the copse and by the river at Double Bridges. We lived in Alexandra Terrace and the first house opposite the Inn was run by Mrs Wicigrin (spelling?). We used to play in the field down the lane and wave at the trains, getting excited at the sight of diesels. How I (...Read full memory)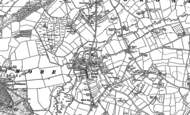 I was a 10 year old lad living at the Alexandra Inn now known as the Hungry Fox pub. Being a keen rail fan then and as now, wandering around the station and the platforms watching trains was a regular past time. Of course I used it when we went to Exeter or on one of my many trips back to London. Sad it is all gone.