Historic Maps of Callington and the local area.
I remember well the Saturday Night Dances at the Bluecap Hotel in the 50's & 60's, now pulled down. The Bull's Head was more up-market. I lived at St Dominick and remember the Cattle Market. I was going to Callington Grammer School when King George V1 and family came to open the Royal Cornwall Show at Callington we all had (...Read full memory)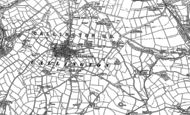 My great great grandfather came from Hayes Rd, Callington. He was a stone mason. His name was Thomas James. I know my great grandfather came to Merthyr Tydfil for work in the coal mines. I'd like to know if I've any relatives in the area. I'd be grateful for any information. My name is Brian James and I live in South Wales.