Historic Maps of Clapham and the local area.

My Clevett family originated from Clapham,from the early 18th century.A large family that spread to neighbouring villages like Patching and Angmering and also to larger Worthing.I am sure that many are buried in unmarked graves in the beautiful churchyard.There no reminders of my family at Clapham now but I was proud to (...Read full memory)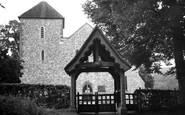 I visited Clapham and the Church in the summer of 1999.  At different periods during the 1800's my Collins family lived and worked there. Thomas Collins of Burpham was buried at Clapham on September 13th, 1855 at 55.  His first wife Charlotte Ayling is also buried there 1822 and his second wife who remarried and known as Sarah Mills Collins TUESLEY in 1876.