Historic Maps of Deal and the local area.

being born and living in deal from the 'late fifties until the seventies' was such a wonderful part of my life, and has never left me. these photographs and memories bring it all back to me. the skating rink, boats, winches and plenty of tar! on the beach, the night ricemans went up in (...Read full memory)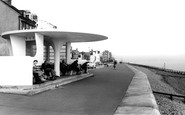 Does anyone remember this B&B, located at No.2 Gladstone Road? It was run by two guys, Bryan & Michelle, one of whom was a fabulous cook. We stayed there several times back in the 70s. Wonderful hospitality! I often wonder what happened to Bryan and Michelle.