Droxford Memories
Read and share memories of Droxford
Hello! I am tracing my maternal family who were born, lived, married and died in Droxford. Does anyone remember or have connections with any Hillyers in Droxford? Henry Hillyer was my great grandfather and was Sexton of Droxford church for over 40 years.
I visited my aunt and uncle in the 1950's.Their names were Douglas and Phyllis Harrison and they were the owners of Fairfield House at the time. He was a dental surgeon and had a practice in London.Each of my visits was for 6 month at a time as Phyllis Harrison was my mothers sister. I also had to attend school during our (...Read full memory)
I can only say my late father was the grocer in the village - Rodney Clark. I was born in Manor Cottage. Dad died when I was only four years of age. My memories are of the shop in Park Lane, I would go with my mother's uncle, Pat Page, delivering groceries around the surrounding villages. I can still remember the (...Read full memory)
Bill Miles was in the Meonstoke football team. I seem to remember an older Miles with a peg leg. I think Bill lives nearby still. Ask Ernie Styles who lives in Harvestgate Cottage, a Stocks Lane.
Terrific memories by both Harriott and Skipwith families. Thank you! Mine centre first on Midlington Cottage (rented from the Horsmans, he a magnificent model-train builder, the house out of Droxford a bit on A32, where all the Army ordinance lumbered past, day after day, to the coast for the D-Day invasion, and (...Read full memory)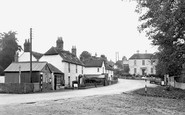 Dear  Villagers of the Droxford & Exton area - Please can you help me, I'm looking for living relatives of Alfred Miles, who died in 1900, around the Droxford area. He was a gamekeeper, his wife was called Sarah, two of their sons also lived in the area, Richard Miles (gamekeeper) and Arthur Miles (kennelman/groom). I (...Read full memory)
My family first came to live in Studwell Lodge, which they bought from the Bruce family,  when my father retired from farming in Berkshire at the age of fifty five. It was then 1959 and I, as a  teenager, was overawed by the sheer size and space of the property. The village was very (...Read full memory)
I had family who lived in Droxford, that was my Uncle Peter, Aunty Dot and my cousins Susan, Christine and John Miles.  Sorry John if you are reading this, it's your five mins of fame.  I loved going over there and was always made welcome.  I went to Droxford school with Mr Bark? and his wife.  She was ok but he in my eyes was (...Read full memory)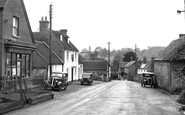 My Father was Arthur Harriott who owned Harriott Brothers Butchers Shop (which can be seen at the bottom left-hand corner of the picture) together with his Brother, Edward. We lived in "Old Sarum" which is the white house adjoining with my Mother, Molly and my Aunt Olive and Uncle Edward. One of my (...Read full memory)