Historic Maps of Farncombe and the local area.

My memory is of St John's School 1945 1946 as an excuse I would like to find school pals Janet Woodcock Sylvia Wright Michael Lindsey I had to sit next to Michael but he beat me by one mark.Does ANYONE remember me.? Maria G Have many memories Audry Hall where are you now. I had tea with you on your birthday.At the sweet store.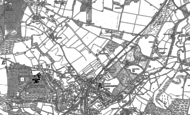 The shop in the middle left of this picture is number 11 Farncombe Street, a drapers shop and the birthplace of John George (Jack) Phillips. His actions as the chief wireless operator on the Titanic helped save many lives. A blue plaque was placed on the building which now occupies the position where this shop was in 2017.