Sorry, we have no old photos of Hendon available currently.
You might like browse old photos of these nearby places.
Historic Maps of Hendon and the local area.

I'm trying to trace my earliest memory. It was about 1955, and I was one-year-old when I fell out of my pram in a grocery shop in Hendon. My recollection (this does not come from my mother's accounts of the story) was that the shop was familiar - one of our regular trips. I think you could see St Mary's (...Read full memory)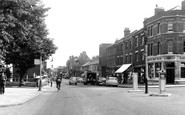 I too was a victim of the York Road bombing. I lived at No 1 York Road and also ended up with my parents in requisitioned accommodation. I have been searching for photographs of York Road so far no luck. I cama across this web site after all this time and seem to remember the name Norman Long. The Hepburns also lived there. Any contact would be greatfully received.