Historic Maps of Ilchester and the local area.

This quiet village street, that could at times be busy with traffic, was the scene of frenetic energy once a week. It was on the day the wives from the naval married quarters at Taranto Hill collected all the kids, walked past the church, over the river bridge, and came into the Post Office, on the left hand side of your picture, (...Read full memory)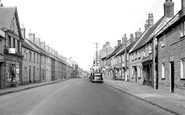 My dad was stationed at no 1 South Street (old police house) in the year I was born, he was a PC. Then I believe we moved to 1 Almshouse Lane. My mum died in 1952,leaving behind my young sister and me and my dad. Dad eventually hired a nanny and then married her in the church next to what is now the italian restaurant. That's about all I remember, perhaps others will remember me.