Historic Maps of Studley and the local area.
My nan lived at 59 Alcester Road with her second husband, Jack Pinfield. I remember visiting when I was a child and have fond memories of them both. Mr Pin (as we called him), cycling off to work at Needle Industries every day and taking me fishing at weekends - happy days! Although it was before my time, (...Read full memory)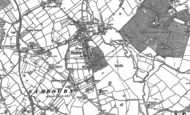 This building is known as "Studley Castle" and after the demise of Rover, who owned it, was sold to a hotel chain.