Browse our selection of old black and white photographs of Tolleshunt D'Arcy, along with a selection of historic maps, local history books, and fascinating memories that our visitors have contributed. All our photos and maps are available to buy in a wide range of product formats, including framed prints, canvas prints, tea towels, mugs, jigsaws, tableware, cushion covers and as one photo in a customised calendar. Most of our local history books can have a personalised inscription added for FREE to the title page.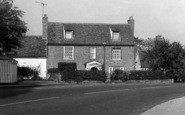 Historic Maps of Tolleshunt D'Arcy and the local area.

Carole and Roger Banham moved into 35 Darcy way with our son Steven it was a great place to live our first home . We used to go to the kings head pub we loved the place so very country..our second son Toby arrived 21 June 1972 at Malden hospital. Cath and Richard had two sons Barbara and Dennis had a boy and girl (...Read full memory)
During the '70s I visited the memorial at Tolleshunt D'Arcy with Gilbert John Olley, his grandfather having settled in the area during the 19th century growing capers on their smallholding for the London market. Alice Olley told us that her husband's family originated from two Huguenot brothers, although we have found no evidence of this.