Nursing Training At 'jimmy's'
- a Memory of Leeds.
My mother, Doreen Hall (Nee Bilton), related these memories to me:

I started nursing at St James' Hospital, Leeds (Jimmy's) in 1948. I was 17 years old, the only one straight from school. I didn't need any qualifications – but I had my school certificate. There were about three months of training before going onto the wards – a training school was attached to the hospital with two tutors; one was Miss Wakelin (?), the other one was a man (can't remember the name).
The uniform was provided straight away – a striped blue and white dress, with a white belt (until the second year exam was passed when you got a black belt). There was a white collar, which had to be starched, and these were a nuisance as they would crack & split where they were attached to the uniform on the top button of the dress. Black stockings and black shoes had to be bought. White caps had to be made up from a straight piece of starched cotton – this was the first thing to be taught on the first day of training. A black cape with a red lining was provided to wear outside – we wore it inside out on voting days with the red lining outermost!
I lived in a very nice room in a new nursing home – down a covered way across open ground. It was not nice at night as there were sometimes stalkers – there had to be a gap between the hospital building & the covered way to allow laundry vans etc to get through, and I would run past this gap just in case. When we went on night duty we had to change rooms and move all our belongings to the 'night block'. When we were on nights, on our day off, that was the only time we got breakfast in bed – it was burnt toast and a hard boiled egg! There was still rationing then – we had to go and collect our rations of butter, tea and sugar from the hospital kitchen.
The hours were shifts – day duty or night duty (after a few months) – the sister did the ward duty. I can't remember all the shift patterns but I remember we could be on from 8am to 4pm or off 2 to 4 and back again in the evening – can't quite remember. I didn't like it when we would work 8am to 10am then off in the morning for 2 hours – 10am to 12. I don't remember holidays but think it might have been 2 weeks. We did get one day a week off & one ending at 4.30pm which we liked. If on nights, we worked 12 hours with ½ an hour for lunch and ½ an hour for a tea break – but sometimes we were busy, and then we just didn't go for our breaks.
In the daytime there was a matron, a deputy matron & two assistant matrons & on nights there was a night superintendent & a night sister. Our superintendent was an ogre who would creep up on you! Sometimes other wards would phone to warn if she was on her way – she was called Miss Bearpark (we would call her Sparepart).
Antibiotics came along during the 3 years I did my training. Before that we used sulphur based drugs, but people often died of infection. I remember when there were children in the hospital with TB – which people often died from. One day a child was given a new drug - Streptomycin – and was cured! It was like a miracle in those days. Drips & blood transfusions came in too – leaps forward in medicine - probably due to lessons learned in the war years.
I remember that people would often die from bronchial pneumonia in those days because they mistakenly thought it was best to keep patients still – not even sitting up. These days they get people moving as soon as possible, but in those days you could die just from breaking your leg, because you would not be moved.
After the initial training, my first ward was with Sister Williams on orthopedics – she was lovely & very funny. I remember that over the sluice was a shelf with bedpans arranged on it - top to tail & rows on top of rows – they were enamel so they chipped easily. I remember that I took one from the bottom of the pile & everything started to move! I could see it happening in slow motion but there was nothing I could do to stop it and they were all going to come down on top of me – so all I could do was to shelter under the shelf, pressed to the wall. Bedpans went flying – chips were flying off the enamel– and Sister Williams came along. Well, she laughed till she cried, leaning on the door frame. Later, as I passed the tea room, I could hear a lot of laughter – there was Sister Williams telling everyone about the bedpan incident & I was pointed out as the new nurse who took the bedpan from the bottom rather than the top.

I was left in charge of this ward one evening at 17yrs of age. It was a big ward – about 30 beds and it was just a ward orderly and me. There was one spare bed and I was really worried that there might be a new admission – with just me in charge. Sister Williams then pointed out a woman who had all of one leg in a plaster-cast – possibly to her hip, and the other leg partly in plaster-cast. We could hear from the noise of her breathing, that we knew as the death rattle, that it was very possible that she would die on my shift. Sister said that if she died, I was to send the ward orderly to get the shears so that we could remove the plaster, ready for the body to be laid out! Thankfully she did not die on my shift but during the night shift. (Her name was something like Mrs Bullock?).

There was '6 block' which had 3 floors and two 40 bed wards on each floor and between the wards were stairs & kitchens shared by the 2 wards. Ward 41 was Alzheimer's & there was a little ward off there for venereal disease. I used to be scared walking past this ward – and the morgue!
We had several exams – I remember there was one fairly soon after we left PTS (preliminary training) & one later on when we would get our black belts. I got my black belt later than everyone else as I had Pleurisy, and although the doctor said I could go in for the exam, my friend Jean accidentally gave me the wrong time. When I got there everyone was already started and although I could probably have asked to go in, I was too shy – so I had to wait to do the exam with the next batch of students. My friends all had their black belts before me and were my seniors! We were nurses in training until we passed our final exams, after 3 yrs, – then we became SRNs. I did my final exam on the day the King died – we were taken by coach to Leeds General Infirmary to do the exam & were told of his death when we came out – I remember the Town Hall bell ringing.
I was at Jimmy's for 3 years but was allowed to stay for a while as a staff nurse after I had passed my exam, as my friend had to do a re-take and we wanted to go together to do midwifery in Scotland.

Jean & I did our midwifery training at Lennox Castle Maternity Hospital, Campsie, Scotland. A year long course in two halves with an exam in the middle. I remember the practicals – we were allocated a patient and a doctor and had to do a written test too. We lived in Nissan huts, which were in field on flat land, just below the castle. It was lovely countryside. The hospital was attached to a main hospital in Glasgow – wards were brick built, but newly built – a T shape. When babies were born, we had to carry them outside in a basket, with two handles, to the ward they would be in. Mums & babies stayed 10 days.
Premature babies had their own ward & had to be sat up in their cots with a tube in the nose for feeding. There were no incubators in our hospital – the 'prems' would be dressed in hand knitted hats and coats. We never lost a 'prem' when I was there – I remember the consultant said it was the Campsie air.
There was also a mental hospital for men next door – they lived in Nissan huts. These men would invite the nurses to a dance! We couldn't say no! One man would often come & play the spoons outside the door of our nissan huts.

We did two weeks training in Glasgow. There was a central place where we stayed, with a sister to organize who would answer calls. All the patients were under a midwife.
We had a car to get to the night deliveries after a certain hour (or we might have got lost!). We delivered babies in the Gorbals – all the family would sleep in one bed in one room – toilets were outside. During labour, the children would be in bed & the mother would be on an eiderdown on the floor. After we had checked the afterbirth it would be wrapped in newspaper & taken away by the husbands.

After our training we went back to Leeds & applied for jobs in the town centre – the council offices. We went to an office over Leeds Market every Friday to get our wages. We were given our money in a little packet and would then head straight to the market to spend it on strawberries & ice-cream!
Jean & I lived in prefabs at 41 Cottingley Drive (all gone now). We had a gas fridge! The kitchen was tin & clanged when you shut the door. There were 2 bedrooms – but we shared one & used the other as a box room. I was midwife in Leeds for less than a year as I met my husband & married – and once married we had to leave work. There were no married nurses at Jimmies.

I used to have a little red book with the names and weight & length of babies born in Lennox Castle. 'My babies' will be in their early 60's now.

---
A memory shared by on Jun 17th, 2013. Send Isobel Buck a message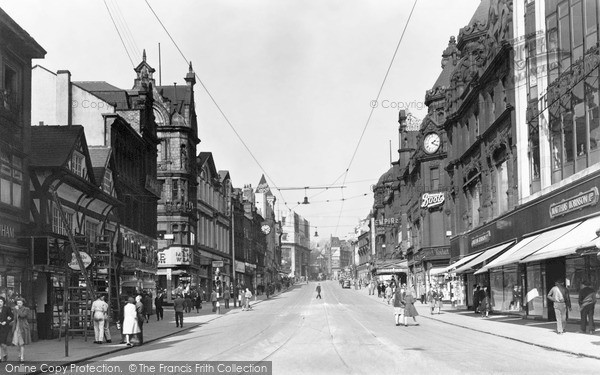 You must be signed in to save to an album
Sign in

Collect photos, maps, memories and books of interest to you.
Sparked a Memory for you?
If this has sparked a memory, why not share it here?
Tips & Ideas
Not sure what to write? It's easy - just think of an important place in your life and ask yourself:
How does it feature in your personal history?

What are your best memories of this place?

How has it changed over the years?

How does it feel, seeing these places again?

Do you remember stories about the community, its history and people?
This week's Places
Here are some of the places people are talking about in our Share Your Memories community this week:
...and hundreds more! Enjoy browsing more recent contributions now.