Browse our selection of old black and white photographs of Petersfield, along with a selection of historic maps, local history books, and fascinating memories that our visitors have contributed. All our photos and maps are available to buy in a wide range of product formats, including framed prints, canvas prints, tea towels, mugs, jigsaws, tableware, cushion covers and as one photo in a customised calendar. Most of our local history books can have a personalised inscription added for FREE to the title page.
Historic Maps of Petersfield and the local area.

As a lad in the 1950's a Sunday run to see auntie in Petersfield was are regular event. A trip to see the lake and try to spot the large carp that would often rise was a treat. On the road there we would often see 'The Butser Turf company lorries load with supplies. The lorries then were ex army 4 x 4 from the war.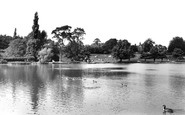 I distinctly remember taking part in one particular exercise on Petersfield Heath at the age of 15. We were divided into two detachments, one defending a position in a clump of trees on the high ground, and the other attacking it. The first section left the school earlier in order to establish the defensive (...Read full memory)