Historic Maps of Abergavenny and the local area.

My family and I often walked to the River Usk, going down Pentre Road and crossing the Brecon Road. We used to have picnics on the side nearest St. Mary's church in Llanwenarth, and look in the water for tiny fish and insects. I particularly liked the flowers I found in the meadows nearby and picked large bunches to (...Read full memory)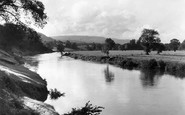 Interesting to read about William Williams who was Mayor three times, lately in 1908. My great grandfather Samuel Deverall was Mayor in 1907 and owned a greengrocery in 44 Cross Street. He was married to Georgina and had two sons, Edmund and Albert. Sadly he was found hanged in 1910 at a farm in Pontypool. I have been told it wasn't suicide but don't really know.