Abergele Memories
Read and share memories of Abergele
Although I am still contact with some of my classmates, I can't forget that a number of things began for me at Clarendon - a love of the Bible; through it we were given foundation to which we can come back over and over again, a love of music and a love of sport. The plaque that was on the (...Read full memory)
I remember Market Street, there was a newsagents towards the bottom of the town (heading towards Colwyn Bay) that we use to get our newspapers from. Also one of the roads leading down to the beach and station used to have a lovely bit of parkland to go through. Used to browse the shops with mum and brother and sometimes my dad! Not been back for ages.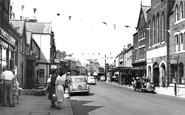 I remember the beach very well from the early 50's through to the early 60's. We went to Abergele every year in August for our family holiday and stayed at a guest house called Rose Hill, which was just out of the main part of the town heading towards Llanferfechan if I remember rightly. We used to make pebble "dens" (...Read full memory)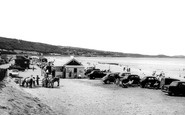 I was a pupil at Clarendon from 1971-75, when I had to leave after the fire. I wasn't allowed to go to the new school in Bedford, it was too far away for my parents, I was very disappointed. It was a privilege to be a pupil there, even though at the time we didn't think so - I was homesick alot of the time. I have (...Read full memory)
This photo shows what was known as the black shed just above the first bridge on the river Gele, to the left of the photo was the school field at the bottom of Berth Glyd where I was born. If you go up Gypsy Lane you will come to an old stone bridge, this bridge is known as the first bridge, which is one of four that crosses (...Read full memory)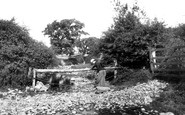 My great grandparents used to live at Fairfield, Sea Road, they also used to have a barbers & tobacconists at Stanley House, I think it's Bridge Street. I gGo quite often to Abergele now as my son has a caravan there. Would love to find out more info if anyone has any.