Aylesbury, Buckinghamshire
Historic Maps of Aylesbury and the local area.

The WWI tank was removed because little boys used to enter and use it as a toilet. It exploded when the welder went to work on it because there was still petrol in the fuel tank, not ammunition. The welder flew across Kingsbury and landed, dead, in front of Ivatt's shoe shop (the signs are still up on the wall). The Rockwell has (...Read full memory)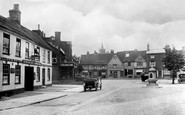 Pub was the Rockwood, not Rockwell. I worked at Pearks Stores, 56, Kingsbury, from 1958 to 1964. My first manager was Cllr. Eric Bentley, an 8th Army veteran. He moved down to the West Country and opened a hotel. Kingsbury was then the Bus station with buses going to such places as Windsor, Northampton, Bedford etc.