Historic Maps of Baldock and the local area.

The towers at the back of this picture are of the Baldock Methodist Church, by the 1960/70's the shop in front was a gentleman's outfitters. I and my sisters, were christened in the Methodist Church here, and my Mum Valerie (nee Juffs) and Dad Frederick Cogar (1925 - 2000) were both church members, as were Mums (...Read full memory)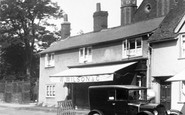 I lived in the hostel in the 1960s and liked the area very much. I was a member of the working man's club, the cinema always had up to date films. The town boasted good pubs, there was plenty of work in nearby Letchworth. I had spells in Borg Warner, Emme's Plastic Moulding, Brand's Coatings and more. I heard most of what I mention is now gone.