Historic Maps of Balham and the local area.

I was born in Louisville Road in 1944 . My father ,Jack, was General Manager of British Films Ltd in Balham High Road. We moved out of London shortly after I was born, but my father continued to run B Films well into the 1950's. Does anyone recall the company which produced mobile Cinema vans mainly? One of the people who (...Read full memory)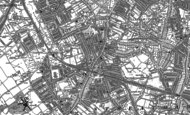 My dad was still in the Army in the late 1940s and early 1950s. He was stationed at the Drill Hall in Atkins Road. He was also a Motorcycle Display rider. Has anyone any memories of this or any photos? Dad's name was George (Nobby) Clarke, and he was a sergeant in the Royal Signals. We also had great Christmas parties there with a huge tree and a present for everyone.