Historic Maps of Bromley and the local area.

My family moved to Shortlands, between Bromley and Beckenham, in 1945 when I was a three-year-old. I lived in Shortlands, in Recreation Road, until 1968 when I moved abroad to work. Now, over 40 years later, back in the UK, it's wonderful to know that people still refer to Beckenham Lane as "Swan Hill". There (...Read full memory)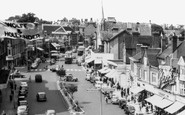 Please can someone help? We run #bromleyhour every Thursday 8-9pm on Twitter, do you have any idea what the name of the fantastic coffee shop was? I'm thinking the Importers but I can't be sure. The smell of coffee to this day reminds me of walking past and sometimes if my Mum had enough money, we'd go in for a treat. Who else remembers?