Historic Maps of Caister-on-Sea and the local area.

I have the fondest memories of Caister on Sea. We used to have a week there every year and my sister and I were the only kids in our street that had a holiday every year. Like most people in the east end of London, we had very little money but my dad worked on the railway and got travel concessions as (...Read full memory)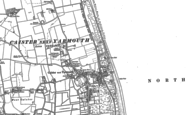 My father was a milkman, for Home Counties Dairy, the horses were stabled in Hodeson road, the bottling dairy was opposite the Eardley arms pub. The livery was green, and the trade mark a gold triangle. Milk then was in glass pint and half pint bottles with cardboard caps. They also sold small items beside milk.