Calne Memories
Read and share memories of Calne
Having been a resident of Calne from 1944 to 1962, I often walked across this little bridge, mainly on the way to the recreation ground. There used to be (and possibly still is) a plaque commemorating Dr Priestley's discovery of Oxygen in this place. I believe the pond was situated just behind Harris' factory but when I last visited the town there was a supermarket there.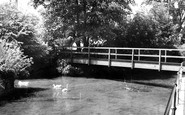 I worked for Jo & George Thomas (George & the Dragon) at the White Hart in Calne in the 70s. I often had to run up and down between 3 bars to work them all, and sometimes helped in the hotel by cleaning. Jo would say there's only 4 or 6 sheets today Sheila so not worth putting the washing machine on (...Read full memory)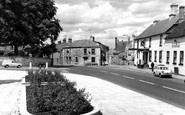 I worked here when I was about 14-15, with Shelley (who is now my sister in law), Chris (can't remember his surname) and Tish (Letitia Orlandi). This was when The White Hart was owned by Giovanni Brandani or 'Johnny', as he was known. It may have been my age, but it has to be said, I had the best time!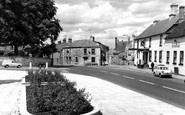 I was born in the White Horse pub in Calne in 1952, at No 1 Wood Street. My grandparents, Alec and Dorothy Poole, were landlords at the time. I loved to stay there as a very small child and my room was a cosy room in the attic with a window to the street. They had a budgie called Joey and a dog whose name escapes my (...Read full memory)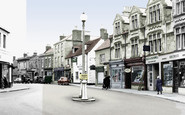 I walked across this bridge four times every day, on my way to and from school (I used to go home for lunch). Home was Abberd Way, and the school was on the Green. I used to stop there to watch trout, and I can still recall the smell of flour from the mill. The 'pond' was actually the millrace, and a second stream joined the (...Read full memory)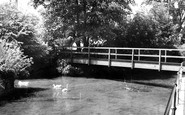 George and Jo were my uncle and aunt and I spent days with them when I was young, I am 58 now but would love to get in touch with anyone who knew them. I remember the parrots well! I can be found on Facebook if anyone wants to get in touch. I would especially like to here from anyone who worked for them.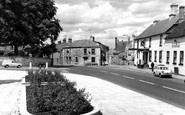 Our Grandmother lived at 7 Wessington Avenue and my sister, my cousin and I stayed with her during many school holidays. She was a member of the Blackford family who owned the building works on the left of the photo and Tudor House next door. We loved visiting, sometimes on the Royal Blue Coach. We attended the Church (...Read full memory)