Edinburgh Memories
Read and share memories of Edinburgh
This is the view from Telfords Dean Bridge looking towards Stockbridge. The Water of Leith is just visible, having just flowed through Dean Village (on the 'other side of the picture', behind the photographer. There is a path from Dean Village to Stockbridge along the bank of the Water of Leith. When I lived here (~1976-2003). (...Read full memory)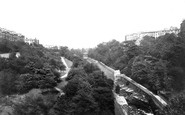 I can't quite work out exactly where this is. I think its a little bit downstream from the other image of Dean Village, but the buildings on the left of the footbridge are not as I remember them - maybe they were demolished? I think the 'twin towers', in the distance are (or were) the Scottish Gallery of Modern Art?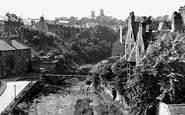 I lived in a small flat in a converted tannery warehouse between 1976-2003- just off-shot at the left hand edge of the picture, All the old buildings are now renovated and converted to flats. A very desirable place to live. The church in the picture is actually at the far end of Telfords Dean Bridge which is not visible in (...Read full memory)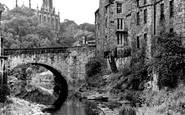 I went to nursery school in the castle. We lived only 50 yards up the road in Loaning Road in the Munrospun factory. Number 3 Loaning Road belonged to Munrospun and my dad was the electrician and the house came with the job. There was a bomb shelter in the back garden that we played in daily. I walked to Craigentinny (...Read full memory)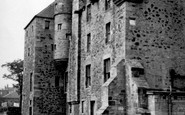 This is where my husand John Tuff grew up. I'm going to buy this picture for John as John now has Alzheimer's disease and when he sees this picture it will bring back some of his memory as a boy. John played as a boy by this castle and he told me about when a German plane crashed by the castle and how John and his pals got chased by the police and home guard.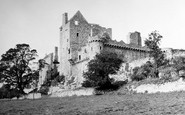 When I was 8 or 9 years old our family moved from Clyde Street, Edinburgh to the High Street or, as we called our immediate area, 'The Tron', in view of living in the shadow of the old Tron Kirk. Our address was 'Fleshmarket Close' of Ian Rankin fame ref the book of that title. The number of the Tennement was 199 High (...Read full memory)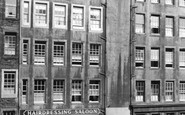 At the age of 11 we moved here & a group of us could always be found (gambling our pocket money at cards) on the steps in the photo. It always amazed us the number of tourists who would enter the close asking if they could take our picture, we must have looked like street urchins!, we often got money (...Read full memory)