Historic Maps of Fleet and the local area.

Wow when I saw their was the a photo of the family's famous store, the store that my dad told me was the equivalent to the first large department store like Debenhams I was amazed, I only wish their were more! My great Great Grandfather James Oakley was the owner to the store and lived near by with this his wife and children. On (...Read full memory)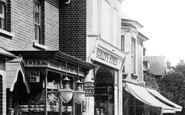 I still remember the uproar in Fleet when this church was demolished, and subsequently replaced with a Woolworths! There was a strong feeling that Fleet was on the downward path to hell - although the rot didn't really set in until many years later, when the former Quaker inspired ban on public houses on Fleet Road was finally relaxed.