Browse our selection of old black and white photographs of Ealing, along with a selection of historic maps, local history books, and fascinating memories that our visitors have contributed. All our photos and maps are available to buy in a wide range of product formats, including framed prints, canvas prints, tea towels, mugs, jigsaws, tableware, cushion covers and as one photo in a customised calendar. Most of our local history books can have a personalised inscription added for FREE to the title page.
Historic Maps of Ealing and the local area.

Worked at Clifton House in the 1970's, it was a few doors down from Police Station, probably where that crane is working, it was Legal & Generals "Golden Mile" (they prob owned office buildings) Clifton House was I suppose name of old house that was pulled down to make way for new office block. Remember Victoria Arms , Walpole Library, walking in park dinnertimes and Daniels in W Ealing.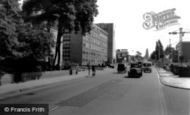 We moved to Ealing when I was 5 and at 11 I went to NHEHS and we bought the school uniform at Abernethies on the corner of Uxbridge Rd. I loved that area. Next to the taxi rank there was a Polish deli...oh the baked sultana cheesecake. In Uxbridge Rd towards Sanders there was Fullers cake shop, walnut cake there! The (...Read full memory)