Historic Maps of Whitburn and the local area.

I used to live at 8 John Street. It was an unmade road with an assortment of housing. I would have been about 5 so my memories are fuzzy and vague. Would anyone have a copy of an old street street map of Whitburn for round about this time showing this street? The street has long gone and been replaced with better housing. I remember the outside loo across the yard at the back.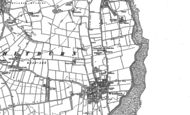 I have very early memories of visiting my grandmother (my dad's mother) in Whitburn. It's taken me a while to find the address, but I think it was 14 Cleveland View. My memories are a bit vague, I was very young, but I remember being fascinated by the shutters on the windows. Does anyone know the house?