Woburn Sands, Buckinghamshire

Browse our selection of old black and white photographs of Woburn Sands, along with a selection of historic maps, local history books, and fascinating memories that our visitors have contributed. All our photos and maps are available to buy in a wide range of product formats, including framed prints, canvas prints, tea towels, mugs, jigsaws, tableware, cushion covers and as one photo in a customised calendar. Most of our local history books can have a personalised inscription added for FREE to the title page.
Historic Maps of Woburn Sands and the local area.

I have a picture postcard which was sent to my mother from her mother (my gran) who was staying at Edgbury Home with my uncle, who was a baby at that time. She must have either had the baby there or been convalescing. I did not expect to find that the building still existed. I wonder if there are any records of that time.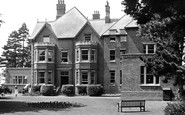 I was a pre - Nursing student at Daneswood for two years. I hailed from Bolton, Lancashire and it was my first time away from home and town. I fell in love with Woburn Sands and enjoyed my time at Daneswood, to this day I have lovely memories of the place and friends made there. I have lived in (...Read full memory)