Historic Maps of Addlestone and the local area.

My mum worked there when I was a kid, on sick days or school holidays I would, with my younger brother, go to work with mum. We would catch the train from Chertsey or walk if we did not have enough money. It was a big spooky Hotel... if memory serves me right! It had 3 floors and a cellar, Mr and Mrs Johnson (...Read full memory)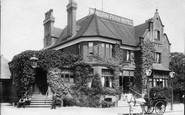 I used to watch the man in the signal box turn a large wheel similar to a ship's wheel to close the gates. Cyclists used to aim for the gap as they got closer together. Motorists became very impatient when a train came from both Weybridge and the Chertsey direction, and the gates remained closed for several minutes.