Historic Maps of Addlestone and the local area.

We used to love watching the trains come through and were sad when they brought in the barriers. I used to travel from Addlestone Station to Egham to attend Strode's College on the old trains which had corridors and compartments! Sounds ancient but was only 1977-79! From the train we could see the new line being built to accomodate the train once the M25 was completed!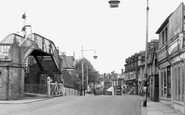 This looks like the bridge over the canal at the Addlestone / New Haw border but I can't be sure. If it is I remember my parents taking us there (early 70's) to watch them put in new lock gates. The gates have the year engraved into them. I also believe that the lock keepers cottage, which I think is the house on the left, was used as a location for a film (about time travellers?).