Historic Maps of Balcombe and the local area.

My father was born in 1927 in Maple Cottage, Balcombe. The Maple Cottage then was not the Maple Cottage now - does anybody know where it was situated in 1927? His mother was Marjorie Hunt but she did not live in Balcombe. I believe she had the baby, registered him and then moved on. Did anybody take in young women to help them with births? Any info would be very welcome.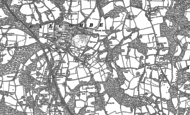 My mother, Beatrice Constable, was born in a little cottage in Balcombe. The happy event took place in a small asbestos bungalow with lots of hydrangeas around the front door. Her parents were Joshua and Elizabeth Constable. Nan had seven boys and seven girls. Some were stillborn and buried in the churchyard under a tree. Does anyone remember this family?