Hythe, Kent

Browse our selection of old black and white photographs of Hythe, along with a selection of historic maps, local history books, and fascinating memories that our visitors have contributed. All our photos and maps are available to buy in a wide range of product formats, including framed prints, canvas prints, tea towels, mugs, jigsaws, tableware, cushion covers and as one photo in a customised calendar. Most of our local history books can have a personalised inscription added for FREE to the title page.
Historic Maps of Hythe and the local area.

I remember the Gem. My aunty Silvia lived a few doors down from there .I went to St Lenards School in 1953. We lived with my aunty who lived at 39 Princes Terrace .We then moved to West Parade on the sea front.There was a little shop near The Light Railway that used to sell small pots jam and if we had been good my cousins and myself were allowed to chose one to have for tea.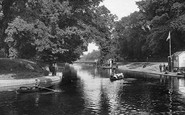 Not quite a historical memory. But only last year I began some serious searching into my father's mother's family. She died when he was a wee child, and he lost touch with her family. He is now 94 years old, and this year I decided to visit Kent and East Sussex to see if I could find anything about his family. Prior to (...Read full memory)