A History & Celebration
These are history books about towns and cities around Britain with a difference. Read a History and Celebration book about your home town or city, and you will find out what really shaped your locality. In these authoritative and highly readable texts, the authors recount the stories and events that together made up each location's history, and relate them directly to what you can still seen on the ground today. There are 101 books in this series.
Prices from £18
.
What to expect in a A History & Celebration book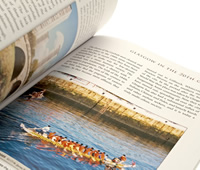 Your Town: Then & Now
Enjoy carefully chosen photographs from The Francis Frith Collection, as well as specially commissioned modern colour photographs showing towns & cities as they are today.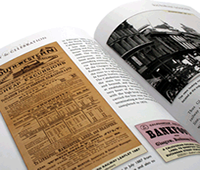 Ephemera & More
As well as photographs, in the pages of these books you'll love the ephemera items sourced by the authors such as tickets, leaflets and postcards that further tell the unique story of each place.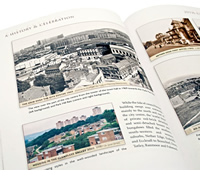 Celebrating Community
In this series we celebrate the vibrant communities of our towns and cities; the local worthies, past and present, whose energy and innovation have played a vital role in shaping places we love.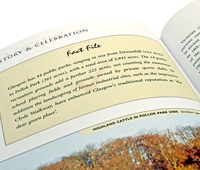 Topic Boxes & Fact Files
Topic Boxes and Fact Files will interest young and old alike, triggering enjoyable memories for older readers and informing younger members of the community about what shaped and developed each place.
Selected pages from the A History & Celebration series.
To get a feel for what you can expect from this book series, take a peak at these sample pages from a A History & Celebration book.
Personalise your Book
Most of our books are printed individually to your order, allowing you to add a personal message when you buy that will be printed on the title page at no extra cost, making our books a great gift or keepsake.
There is simply nothing like receiving a gift that has been specially chosen with you in mind.Our individually printed, personalised books are the perfect way to show you care and are ideal for birthdays, weddings, anniversaries and leaving or retirement occasions.
Before you buy, you can add a personal message which will be printed on the title page of your personalised book for no extra cost. Available as paperback or hardback.
---
Poetry books and any books under the 'Stock Books' category cannot be personalised and available on in paperback or hardback as specified.
Free Photo Print with this Book
These books include a voucher for a free Frith Photo Print.
Turn to the back of your Frith book and find a voucher for a free mounted print of a Frith photo of your choice. Simply choose any photo from the book, return the completed the with a small payment for P&P. We will then print it in sepia and mount it for you in our Medium Standard mount.
Explore other Photo Book Series
Other Frith Shop Departments