Flavours of Wales
64

pages
ISBN

978-1-84546-975-7
Size 190 x 268 mm (approx. 7.5" x 10.5")
Free optional inscription available!
Printed to order
Part of our Flavours Of... series of books.
| | |
| --- | --- |
| | Previously published as small hardback pocket books, they are now available in these bigger Large Print editions, making them a lot easier to see and enjoy. |
Recipe List
The following recipes appear within this book:
Leek Broth – Cawl Cennin
Tregaron Granny's Broth – Cawl Mamgu Tregaron
Grilled Grayling
Welsh Salmon Steaks with Green Butter
Trout Wrapped in Bacon – Brithyll Mewn Cig Moch
Sea Trout or Sewin (Siwin) with Herbed Mayonnaise Sauce
Welsh Herring Supper – Swper Scadan
Mackerel with Walnut Stuffing
Cockle Pie – Pastai Cocos
Mussels with Cider and Leeks
Honeyed Welsh Lamb – Cig Oen Cymreig â Mêl
Loin of Pork with Cabbage Cake
The Miser's Feast – Ffest y Cybydd
Welsh Roast Potatoes and Bacon – Tatws Rhost
Welsh Rabbt (or Rarebit) – Caws Pobi
Glamorgan Sausages – Selsig Morgannwg
Welsh Onion Cake – Teisen Nionod
Anglesey Eggs – Ŵyau Ynys Mȏn
Laverbread Breakfast – Bara Lawr Brecwast
Leek Flan – Tarten Cennin
Punchnep
Toffee Tart –Teisen Taffi
Welsh Bread Pudding – Pwdin Bara
Monmouth Pudding – Pwdin Mynwy
Snowdon Pudding – Pwdin Eryri
Speckled Bread – Bara Brith
Welsh Cakes – Picau ar y Maen
Brecon Light Cakes
Aberfraw Cakes – Teisenau Aberffro
Free Mounted Photo Print with this Book
These books include a voucher for a free Frith Photo Print.
Turn to the back of your Frith book and find a voucher for a free mounted print of a Frith photo of your choice. Simply choose any photo from the book, return the completed voucher with a small payment for P&P. We will then print it in sepia and mount it for you in our Medium Standard mount.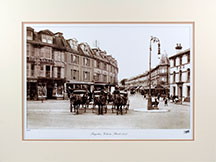 ---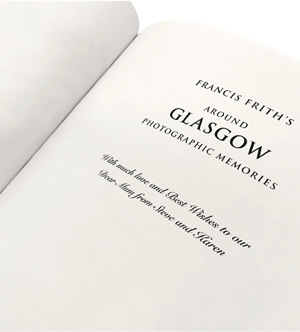 The perfect, personalised gift
Add a personal dedication to the title page - free of charge.
Most of our books are printed individually for your order. You can add a personal message when you buy that will be printed on the title page at no extra cost, making our books a great gift or keepsake. Available in both hardback and paperback.
This is a great option for birthdays, weddings, anniversaries and leaving or retirement occasions.